Jordan Skating Club
Skating Programs
Learning to skate in Jordan Station has never been so fun!
At the Jordan Skating Club we offer a wide selection of programs for everyone looking to learn how to skate, improve their skating skills or are interested in figure skating. The following is a breakdown of the programs we currently offer. Please feel free to contact us with any questions you may have about our club or programs. We look forward to helping you achieve your skating goals. 
Fall 2023 – Winter 2024 Skating Programs
Tuesday, Thursday and Saturday sessions 
Parent-Tot CanSkate
The Parent and Tot program at The Jordan Skating Club is perfect for young skaters who might feel a little unsure about being on the ice without a parent (or other designated adult). 
The lesson is taught by professional coaches and qualified CanSkate Program Assistants. Children learn the basic skills of falling down and getting back up, keeping their balance while standing still, skating forward and backwards. Lots of teaching aids, games, circuits  and music make learning to skate both fun and safe. Both the child and the adult must wear skates on the ice. 
The fee for the child is the same as the CanSkate program and the accompanying adult must purchase a Skate Canada membership ($50) for insurance coverage while on the ice.  Both the skater and the registered adult are invited to attend our weekly Practice Time ice sessions on Sunday afternoons. This ice time from 3 – 3:50 p.m. is provided to our club members at no additional cost. 
CanSkate
Millions of Canadians, including World and Olympic figure skating champions and National Hockey League stars, have taken their first steps on the ice with the CanSkate program. Offered at clubs and skating schools across Canada and delivered by NCCP coaches, CanSkate will help your child realize his or her skating goals.  This learn to skate program has been designed by Skate Canada to teach the fundamental moves of skating.  Skaters are grouped by both age and ability. 
They are recognized with a series of ribbons and badges as they master the skills of Balance, Agility and Control at each of the six badge levels. The emphasis in each category is as follows:
Balance – focus is put on forward skating skills, pushing and edge work;
Control – focus is put on backward skating skills, stopping and speed drills;
Agility – focus is put on turning and jumping skills.
For safety, gloves (or mittens) and CSA approved hockey helmets are mandatory.  A helmet with a cage is required for beginning skaters. 
CanSkate was designed for 90%  continuous movement to maximize learning and practice time in a fun and active group setting.  Skaters move from station to station during their lesson time and are assessed in a continuing, but informal manner. 
CanSkate uses lots of circuits, games, music and on-ice equipment to make learning to skate both fun and safe! Look for more information about skates, clothing, etc. in our FAQ section. 
All of the skaters in our CanSkate program are invited to an extra hour of Practice Time ice on Sunday afternoon from 3 – 3:50 p.m. at no additional cost.  It's a great time for our members to practice new skills and/or book private lessons.  For insurance reasons anyone using this ice must have a Skate Canada membership. 
Tuesday, Thursday and Saturday sessions 
STARSkate
CanSkate Badge 6 and STARSkate 1-5
Jordan Skating Club has many accomplished STARSkaters learning Canada's best-in-class figure skating curriculum. 
Skaters who have passed CanSkate Badge 5, and are interested in figure skating may choose to continue in the STARSkate program.
In this program skaters are grouped by ability as they work on jumps, spins, footwork, stroking, dance and skills. 
Each session includes a 45-minute group lesson. All skaters are invited to off-ice sessions in the upstairs hall of the arena.  Running shoes and comfortable work-out clothes are required.
Skills, Tests, Achievement, Recognition – this is what STARSkate is all about!
Unique in Canada, this program teaches figure skating skills in a group and/or private lesson format in a progressive and sequential manner and includes specifically designed awards and incentives. Skaters have the opportunity to take Skate Canada Tests through a nationally standardized testing system. 
For safety and effective skill development, skaters in Badge 6 are grouped with those working on STAR1 and STAR2.  Skaters who have passed all of STAR2 and are working on STAR3 and above will have reserved ice time during the early Sunday session (12:20 – 2:15 p.m.) and end of Thursday (7:15 – 7:50 p.m.). 
At the STARSkate level, skaters are encouraged to skate more than once a week. Private lessons are also available to skaters at this level.
Contact us today to learn more about our Group STARSkate program at the Jordan Skating Club.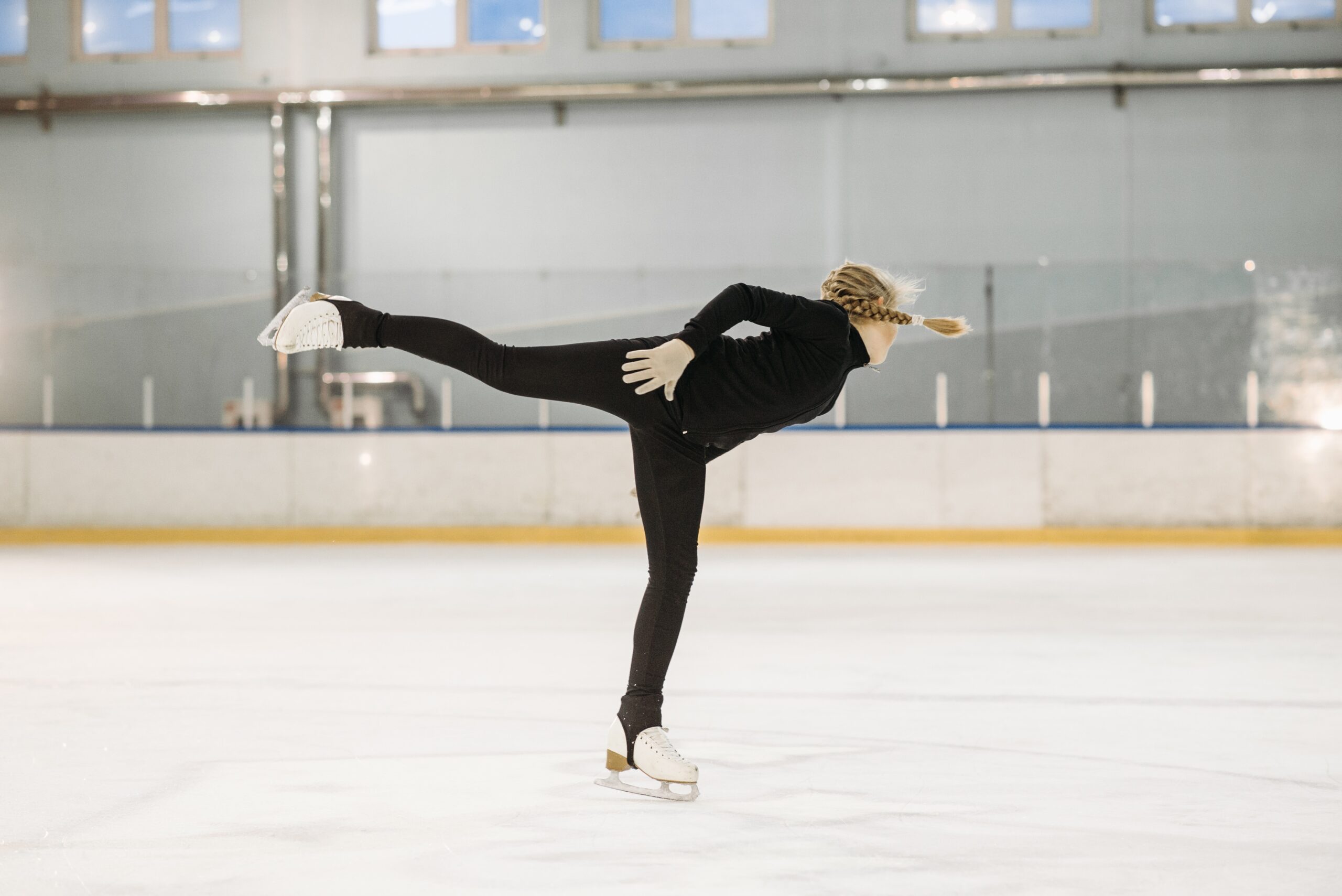 Tuesday, Thursday and Sunday sessions 
Jordan Skating Club additional options
Private Lessons
Private lessons are available to skaters at all levels with any of our professional coaches.  Private lessons can help skaters advance at a faster pace, prepare for Skate Canada Tests, learn choreographed routines for competitions and add to their enjoyment of skating. Please visit our Coaches Page to learn more about our coaches and to connect with them to discuss private lessons.
Lessons are available during any STARSkate ice time on Tuesdays, Thursdays and Sundays. 
Ticket Ice and FreeSkate
Ticket Ice is ice provided by the Town of Lincoln to be used strictly for figure skating. Skaters should be at (or close to) the STARSkate level before registering for this ice. Anyone using this ice must be a registered member of Skate Canada. Scheduling, registration and payment are done through the Town of Lincoln website.
You may have heard figure skaters refer to ice as a 'FreeSkate' session. Unfortunately it isn't 'free' in the sense of 'no cost'  it is actually short for Freestyle Skating.
Many of our coaches are available for private lessons at this time. 
Sunday Practice Time
Sunday Practice Time is an extra session of ice available to all of our registered skaters at no additional cost. It's a great time for our CanSkate, Parent & Tot and STARSkate members to practice new skills and/or book private lessons. 
For safety, the following restrictions apply during Practice Time as they can be dangerous to other skaters on the ice:
• NO double jumps
• NO camel spins
• NO dances above Star 5
• NO skills above Star 5
• NO games of tag, falling down and sliding, etc.
Many of our coaches are available for private lessons at this time. 
Skating is a wonderful sport – but often full of questions! 
Please feel free to contact us as we are always happy to help. 
Jordan Skating Club offers family and multiple session discounts
The Jordan Skating Club offers a family discount.  The first two children pay full price on their program fees, but third and additional children are charged half price on their program fees. 
We also offer a skater discount for those who purchase more than one session each week. The first session is full price, but all additional sessions are half price.  This is especially important to our STARSkaters who usually do need to skate more that once a week.  So, the more you skate, the more you save!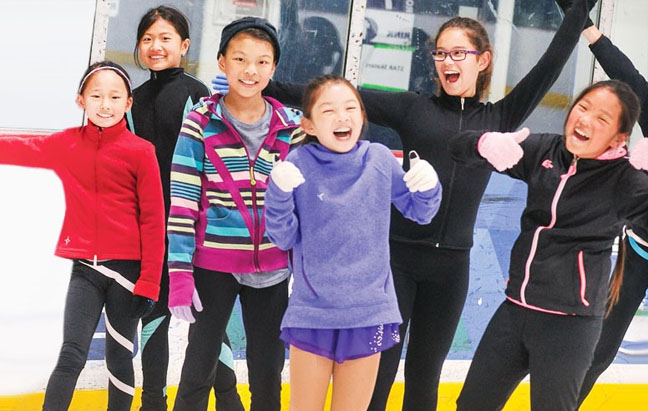 Want to improve your skating skills?
Join the Jordan Skating Club today – learning how to skate has never been so fun!